Where to get Chinese groceries in perth ?
Asian grocery store in Perth, Western Australia. ( VHT PERTH)
VHT Perth opened in 1983 with a limited range of Asian food products to sell to the people of Perth in Western Australia. Today, VHT has grown from a small retail store to an Oriental Supermarket spanning over two storefronts on the vibrant William Street central to Perth's Chinatown.
In 2000/2001, VHT relocated from the smaller old store to the new larger premises of 412 William Street. Within two years the store expanded into 410a William Street, allowing a greater range of products to be sold. We pride ourselves on having the widest range of Asian Oriental food products and brands in Perth and have become the sold agent for several famous brands within WA.
We have been supplying food products to restaurants and other retail outlets directly over the past 25 years. We offer competitive prices for all bulk buys and purchases, with delivery also available for large orders. VHT Perth main goal is to be THE one stop shop for all your Asian food needs both retail and wholesale.
Chinatown in Perth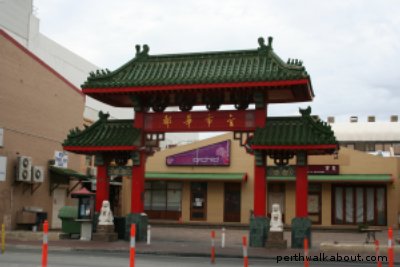 Roe Street, Chinatown, Perth, Western Australia
The official Chinatown on Roe Street in Northbridge is adorned by two lion statues on either side of the pagoda archway. This commercial development was built in the 1980's to mark the presence of Chinese in Western Australia since the early days of colonisation.
During the 1840's, Chinese arrived in Western Australia to work as labourers and farm hands. In the early 1900's, the Chinese excelled in running businesses including laundry enterprises and market gardens. To meet the needs of the Chinese population, oriental grocery stores also sprang up to provide provisions.
The Perth today as we know it is a melting pot of migrants including those from Asian countries such as Vietnam, Singapore, Malaysia, India, Indonesia, Philippines, China, Hong Kong, Sri Lanka, Taiwan, Burma, Cambodia and Brunei. And the range of cuisine on offer in Northbridge is a reflection of our ethnically diverse population.
Chinese groceries
Ngo Holdings Pty Ltd
39 Beringarra Ave,
Malaga, WA 6090
Kongs Trading Pty Ltd
784 Albany Hwy,
East Victoria Park, WA 6101
Shop 88 Asian Groceries
342 William St,
Perth, WA 6000
Hi-Mart ( Korean Food also available)
Address: 133 Barrack St, Perth, WA, 6000
Phone number: (08) 92217736
1. Near Market city, Canning Vale, Not sure of the name. Its Indonesian Chinese shops.
2. Oriental Cash n Carry in Bannister Road, Canning Vale
3. Ranford Rd/Campbell road, Canning Vale
4. 99 Seafood, Amherst Rd. Beside frozen seafood they have varieties of other Msian food. Including Nyonya fish otak2. Owner from Malaka.
5. San Fatt – Spencer Road, Thornlie
6. Seng – Thornlie Square, Thornlie
7. Kong – Vic Park.
More :
Korean mart @ Centro Victoria Park
Yee sheng @ Myaree.